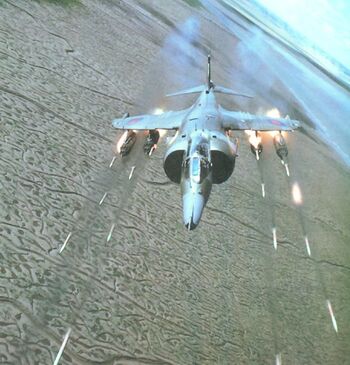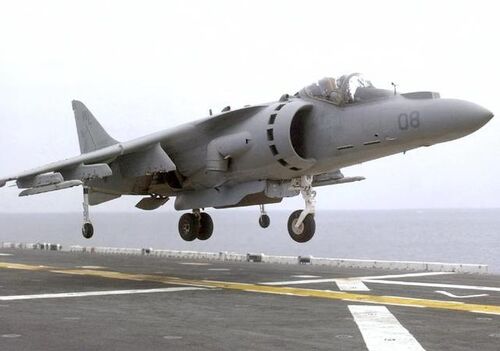 The Harrier is a single seat, close-air support, light attack aircraft with vertical and short takeoff/landing capability. It's primary mission profile is close-air support, a profile in which the unique flexibility of V/STOL allows operation from naval ships or unprepared short bases. Secondary Mission capabilities include Interdiction, Combat Air Patrol or deck launched intercept. The AV-8B has a raised cockpit with wraparound windshield and a shoulder mounted, swept wings. The craft is powered by a Rolls Royce Pegasus fan jet and has two side inlets and four exhaust nozzles which may be rotated to provide thrust vectoring for V/STOL operations or to enhance in-flight maneuvering. The landing gear consists of a Nose gear, a single main rear gear, and two outrigger gear underneath each wing.

The Resistance has stolen one from LAX, and the only qualified pilot for it is Heather O'Leary, however, at the moment, it is too damaged to fly. The one they stole is the TAV-8B, or the training model, which has two seats, with controls in both the front and back seats, with an over ride system in the front, so that the pilot conducting the training can take over at any time, and control the aircraft.
DESIGNATED OPERATOR: Heather O'Leary
Ad blocker interference detected!
Wikia is a free-to-use site that makes money from advertising. We have a modified experience for viewers using ad blockers

Wikia is not accessible if you've made further modifications. Remove the custom ad blocker rule(s) and the page will load as expected.