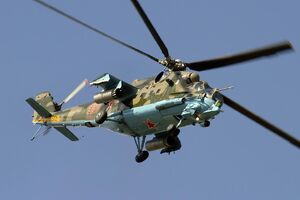 The Mi-24D was a purer gunship than the earlier variants. It entered production in 1973. The Mi-24D has a redesigned forward fuselage, with two separate cockpits for the pilot and gunner. It is armed with a single 12.7mm four-barrel Yak-B machine-gun under the nose. It can carry four 57mm rocket pods, four SACLOS 9M17 Phalanga anti-tank missiles (a significant enhancement compared to the MCLOS system found on the Mi-24A), plus bombs and other weapons. One Mi-24D was sold to Poland in January 1996 and was used by the WTD 61 in Manching during 1994 for tests with the head of a Hawk missile in place of the chin-mounted gun. This version also had an unidentified modification in the rear cabin window on the starboard side.
The Resistance has stolen a Mi-24d Hind from the OpFor (Opposing Force) Army Base in Arizona. Thomas Krieger planned the raid, and is the designated operator of the Hind.
Ad blocker interference detected!
Wikia is a free-to-use site that makes money from advertising. We have a modified experience for viewers using ad blockers

Wikia is not accessible if you've made further modifications. Remove the custom ad blocker rule(s) and the page will load as expected.